Vancouver Island Waterfront — For Enjoyment. For Investment.
Why buy Vancouver Island Waterfront? Â Because beautiful Vancouver Island–located on the West Coast of Canada–is home to 800,000 people and growing.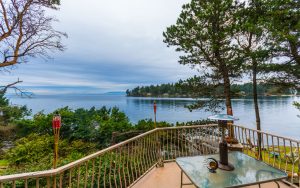 The climate is mild. Â It is not too cold in the winter and not too hot in the summer. Â The blooms of Spring come out early. Â Some call Vancouver Island the Hawaii of Canada. Â It is a great place to live and to retire. Â It is a great place to raise a family.
There are so many recreational possibilities for residents. Â Eco tourism, sports, outdoor recreation, cultural events and opportunities abound. Â Service clubs, churches, community involvement opportunities are easy to access.
The pace of life is just right. Â Other than in Victoria, traffic moves well. Â There are many quiet places where the sounds of nature are all you will hear. Â It is easy to find a quiet private place to recreate and to enjoy life.
The coastline of the Island provides ample opportunity for home and property buyers to find the perfect Vancouver Island Waterfront Home. Â Prices range from a few hundred thousand for waterfront lots to several million dollars for high end waterfront estates.
Searching for Vancouver Island Waterfront Homes
This site is dedicated to helping real estate buyers and sellers with their Vancouver Island homes and properties. Â Â On this site, you can browse at your convenience. Â If you are Selling you can know that your home is found on this website for others to find.
Begin your search here. Â But it you want more . . . you might want to upgrade your search tools to the Private Client Services (PCS) listing notifications which the real estate board provides. Â You can get listings 24 to 48 hours ahead of the public MLS.
Feel free to get in touch with us by email for more information regarding Buying or Selling your Vancouver Island Waterfront Home or Property
"Helping YOU is what we do."